Solutions for the Transportation Industry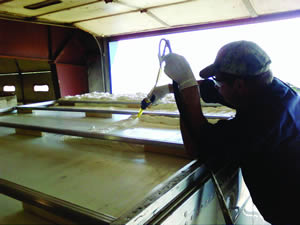 Touch 'n Seal foam systems offer value and versatility ideally suited for both OEM and repair of all types of vehicles. In addition to the repair, structural strengthening and repair of reefer trailers, Touch n' Seal foam systems are ideal for sound and thermal insulation of passenger vehicles, emergency response vehicles, buses and aircraft. Touch 'n Seal provides easy-to-use application systems with fast results and consistent superior quality.
Flexible Foam Systems
Touch 'n Seal spray polyurethane foam systems are available in sizes ranging from small disposable units to 120 gallon refillable foam systems.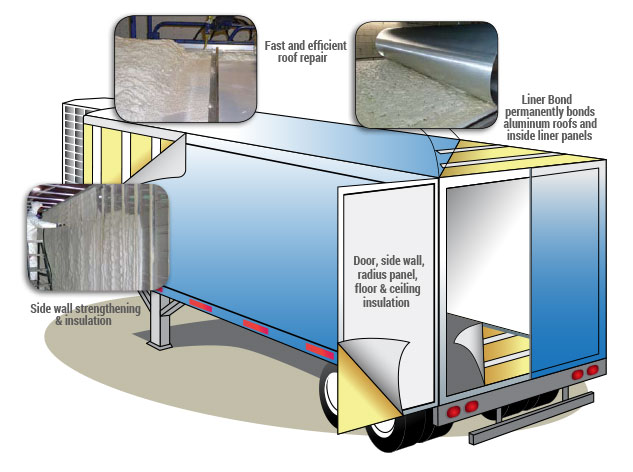 The Touch 'n Seal Refill System is a two-component, Class I fire-retardant, spray polyurethane insulating foam system for large volume users. Touch 'n Seal Refill Systems are available in 17, 60 and 120 gallon sizes. Refillable foam systems offer structural strengthening with exceptional thermal insulation value and sound reduction. Ideal for full building insulation and air barrier sealing. Returns are simplified with prepaid freight and easy pick-up when you have emptied the units.
Features & Benefits
Easier set-up and maintenance than "foam rigs"
Lower investment, returnable systems
Enhances structural integrity
Provides air sealing, thermal & sound insulation
Suitable for new construction, retrofit & transportation industries
---
Properties
UNIT SIZE

64 liters/
17 gallons
227 liters/
60 gallons
454 liters/
120 gallons

Chemical Weight - kg/lb

68 / 150

227 /500

510 / 1,125

Empty Tank Weight With Fittings - kg/lb

30 / 65

78 / 172

142 / 314

Gross Weight of Filled Tanks - kg/lb

98 / 215

305 / 672

653 / 1,439

Cylinder Dimensions -mm/in (FOR SHIPPING)

Diameter

381/ 15

610 / 24

762 / 30

Height

864 / 34

1,168 / 46

1,448 / 57
---
Common Uses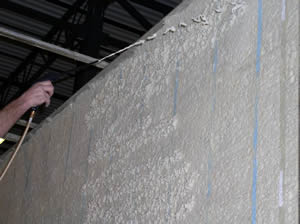 Liner Bond Trailer Adhesive


Liner bond is a one-component foam adhesive often used




inside refrigerated trailers to bond fiberglass liners to


prepared spray foam insulation and aluminum posts.

Refrigerated trailers, railcars
Fire trucks, ambulances & emergency response vehicles
Commercial building insulation/air barrier air sealing
Grain drying bins, barns, coops, and out buildings
Boating — marine seat and hull flotation, pier and dock flotation
Buses & limos
Pools & spas
HVAC
Recreational & commercial watercraft
---
Transportation Products
2.0 PCF Standard Closed Cell Foam
Literature
Video