Quick Cure Polyurethane Foam Sealant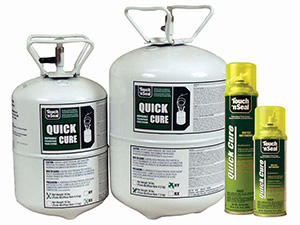 Touch 'n Seal Quick Cure foams are high performance, single component, moisture curing, Class A fire retardant, expanding polyurethane sealants. Use Quick Cure Polyurethane Foam Sealants to permanently air seal and insulate gaps and cracks to block drafts, moisture and insects while improving comfort and reducing energy usage in commercial, industrial, agricultural and residential applications. Common applications include sealing around plumbing, ventilation outlets, electrical junctions, between sill plates and concrete slabs, or anywhere requiring a fast, economical air-sealing moisture barrier.
Quick Cure foams work on wood, masonry, insulating foam boards, metal, wire insulation, plastics and sheetrock and are available in both straw dispensed aerosol cans and larger cylinders with hoses and applicators.
---
Quick Cure Straw Foam
A fast and easy, high-yield means to seal cracks and gaps. All-direction dispensing allows for easy maneuvers around tight spots. Unlike other foams, Quick Cure's foam saver nozzle is reusable; projects can be restarted later.
Features & Benefits
Available in 340 gram (12 oz.) and 680 gram (24 oz.) cans

340 gram Yield @ 0.63 cm (¼") bead: 280 meters (900 linear feet)
680 gram Yield @ 0.63 cm (¼") bead: 550 meters (1,900 linear feet)

Density: 1.75+/-.25 lbs./cu.ft.
Shelf Life: 12 months
ULC rated
Class A Fire Resistance (ULC-S102, Surface Burning)

Flame Spread: 10
Smoke Developed: 5

R Value: 4.9 per inch thickness
Max. Service Temp for Cured Foam: 116ºC (240ºF)
Tack-Free Dry Time: <30 minutes
Full Cure Time: 24 hours
Technical Information
Quick Cure Straw Foam - Safety Data Sheet (PDF)
Quick Cure Straw Foam - Technical Data Sheet (PDF) ENGLISH
Quick Cure Straw Foam - Technical Data Sheet (PDF) FRENCH
---
Quick Cure Cylinders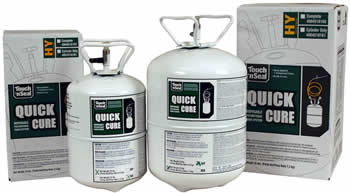 The easy portable way to handle large jobs. Available in High-Yield (HY) and Reduced Expansion (RX) formulas. Use Quick Cure HY when high expansion is needed to fill and seal larger gaps and cracks. Use RX when requiring controlled dispensing rate and less post expansion.
System includes hose and wands. Replacement cylinders and accessories available.
Features & Benefits
Available in 4.5 kg (10 lb.) and 7.2 kg (16 lb.) cylinders

4.5 kg HY Yield @ 0.64 cm (¼") diameter bead: 4,663 meters (15,300 linear feet)
4.5 kg RX Yield @ 0.64 cm diameter bead: 4,480 meters (14,700 feet)
7.2 kg HY Yield @ 0.64 cm (¼") diameter bead: 7,437 meters (24,400 feet)
7.2 kg RX Yield @ 0.64 cm diameter bead: 7,340 meters (24,080 feet)

Shelf Life: 12 months
Class A Fire Resistance

Flame Spread: 20
Smoke Developed: 25

Density: 1.3-1.8 lbs./cu.ft.
R Value: 4.5 per inch thickness
Max. Service Temp for Cured Foam: 116ºC (240ºF)
Tack-Free Dry Time: <15 minutes
Full Cure Time: 24 hours
Technical Information
Quick Cure Cylinders (HY) - Safety Data Sheet - English (PDF)
Quick Cure Cylinders (HY) - Safety Data Sheet - French (PDF)
Quick Cure Cylinders (RX) - Safety Data Sheet - English (PDF)
Quick Cure Cylinders (RX) - Safety Data Sheet - French (PDF)
ICC-ES Evaluation Report (PDF)
LEED Document (PDF)